Goods Cum Passenger Lift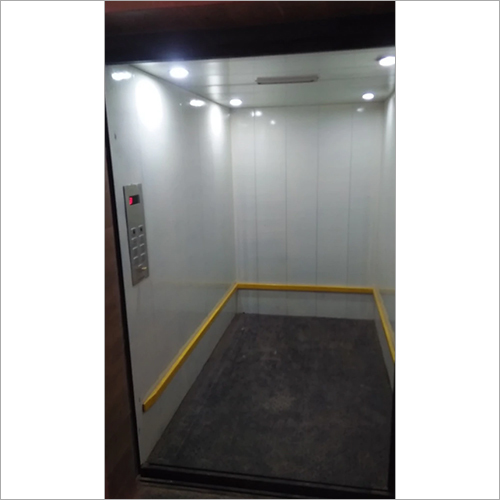 Goods Cum Passenger Lift
Product Description
Goods Cum Passenger Lift
Goods Cum Passenger Lift is a commercial class material handling unit that can be used in various types of buildings due to its large room space and excellent lifting capacity of up to 1200 kilograms. It is capable to travel up to 9000 millimeters at a speed of 0.5 meters per second. It is provided with an easy to use control panel to control the lift. The interior of the room is installed with LED lights and fans for better visibility or to mainatin a cooler environment. Goods Cum Passenger Lift is installed with top-quality preprogrammed ARD & VVFD drives for controlled and efficient functioning.
Specification
Type of Lift : (Goods cum passenger)
SIDE LOCATION :Faridabad
No. of Lift :1 No.
Capacity : 1200 kg
Travel : 9000 mm (approx)
Speed Mps :0.5 Mps
No. of Stops:G + 2
Opening/ Entry: Single side
Machine :Sharp /Pooja
Shaft size (W x D) : 980w x 1250Dmm x 11500(approx)
Car Size (W x D x H): 820W x 850D x 2000mm (approx)
Head Room Height : 4500mm
Required Pit Depth :1600mm
Car Design :MS POWDER COTADE
Car Interior :Fan / Light
Clear Entrance Size(W x H) :700 x 2000 (approx)
No. of Gates :(Floor Gate 3) + 1(Cabin)
Type of Doors : Collapsible Doors
Controllers : Automatic Push Buttons Based with Micro Processor
Pre Programmed control panel with ARD & VVFD Drive.
Feature : Emergency Stop Switch
Door Safety : Door will not open unless Cabin reach in place Fire switch
Power Require : Main Supply : 400 Volts, 50Hz, Three Phase with Double
Earthing Lighting Supply : 230 Volts, 50hz.